Solomons MD to Kent Island MD
Calvert Marina, Solomons MD to Home, Chester MD
7/12/18
On the way from Solomons to our destination at Kent Island, the expanse of water to cross was large, and we saw boats only at a distance. I noticed that one was a Navy warship (yes, again) ahead to port that again didn't seem to change in relative perspective as we progressed. Later Tom addressed the situation and said: "The good news is that it is not on a collision course. It is not moving. The 'other' news is that it is a target for strafing and bombing." With that calm statement of the situation, I'd simply duck if I heard that voice continue: "And here is a bomb heading for us now." What else can you do when you are next to a target? Earlier he had used our charts to navigate around an unmarked section of unexploded bombs in the water. As if on cue as he spoke, a fighter jet tore through the sky with a terrible thunder.
Uhmm…as eyes went right and left.  We were near  Patuxent Naval Air Station.
Tom's condo is across the water from Aberdeen Proving Grounds, where they explode things many days, and you can feel the ground shaking and hear the air booming and popping. Planes break the sound barrier as they fly overhead when Andrews Air Force Base sends out their planes. The Blue Angels zoom above in formations during their practice and show days in summer, exploding the air surrounding our house in Annapolis, shaking and occasionally breaking the double-pane seal on our windows. Of course, the Annapolis Naval Academy, only 10 minutes away, and Ft. Meade are very close too.  The military is loud
I wondered what part of the Bay I would recognize first that showed me that I was almost home. The answer was the area around Calvert Cliffs. We passed Cove Point Lighthouse, which is now a museum and a Coast Guard Station, 232' high, lighted but not manned.
We passed by the chalky looking Calvert Cliffs, where there is a nuclear power plant.
and an LNG liquified natural gas shipping pier, which is massive and memorable.
A large, awesome area of fish traps with poles driven into the ground with nets draped between them took over a section of the waterway.  With no warning lights or indication of their existence, they are dangerous, especially at night.  One of Tom's friends ran into it at night and it cost him a $1000 tow to get clear. 
Finally we came to our familiar landmarks of Kent Narrows, a dense cluster of restaurants, striking with their brightly colored sun umbrellas and brightly painted picnic tables and stools. 
The Narrows' restaurants are also notable for having piers for arrival by boat. The boats docking there are often part of the scenery and atmosphere, and some people play it to the hilt. They rev their engines to announce their power while emitting gas smell to float over the food, swing the gold chains on their necks like cleavage, help the women in inappropriate clothing and heels get off the boat, and pontificate loudly. It can be quite a performance.
The Jetty, one of our favorite spots with live music and games is a fun, campy place to go.
The Jetty (above and below)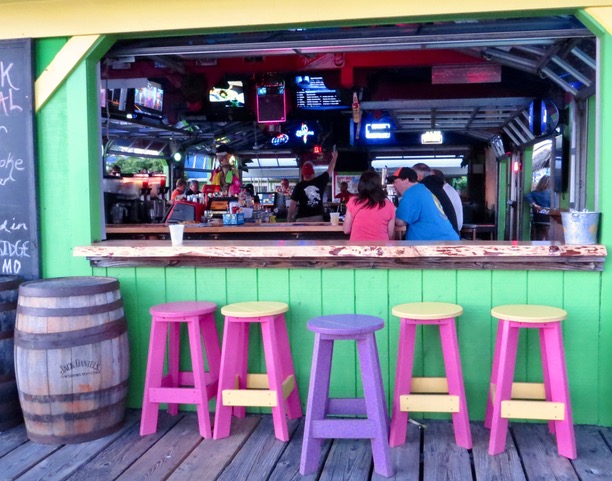 The Bridges is an upscale restaurant.
Fisherman's Inn Crab Deck is a large, open and airy part of the older restaurant not far away. It's a good place to get crabs by the dozen. They cover the table with brown paper, give you a mallet and knife, drawn butter to dunk the crab in, and let you go at it. They have a steel drum musician or piano player some evenings.
The Big Owl Tiki Bar is a great place for hamburgers, hotdogs and beer, etc. and is always crowded. I'm thinking that people on the Chesapeake don't know what a full "Tiki-look" is. They just like the word. It probably has a hula skirt around a top of a bar like the one at Crisfield.  It is usually crowded. Perhaps they think the word "tiki" conveys the mood of the Keys or South Pacific despite the definitively Eastern Shore surroundings. Each year they have to throw out the palm trees that don't make it through the winter.
Just as well; I don't think they have a good "stress-free Tiki Hut Repairman" anywhere: https://www.reverbnation.com/briansmalley/song/4012886-tiki-hut-repairman or see him in action: https://www.youtube.com/watch?v=U04OV0iSqIU . 
Across the channel from the restaurants just before the Kent Narrows Bridge is a fishermen's work boat dock, then the Narrows Bridge, and just beyond that, Piney Narrows Yacht Haven, where Tom has a slip and used to keep CRESCENDO, his sailboat.
Also just past the bridge is another bunch of restaurants. The name Red Eye Dock Bar says it all as a waterfront biker bar for fast boats and wet t-shirt contests. "The antithesis of a Victorian tearoom", says Tom. It rocks raucously until late into the morning. The pert yellow and blue gingham appearance belies the action.
Narrow channel.  With the 2 jet skis, I felt we had an escort.
It was exciting to recognize the buoys and to see the condos in the distance.
View through the blue air of Tom's condo community and jetty:
Narrow, winding entrance:
Clubhouse and pool:
Yeah! Tom's place up the hill from Snowbird's new residence.
Evening sunsets, many nights glorious beyond comprehension. First night back:
Other nights: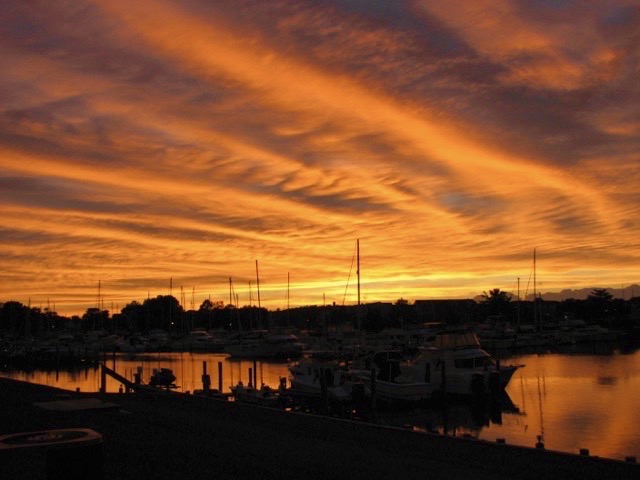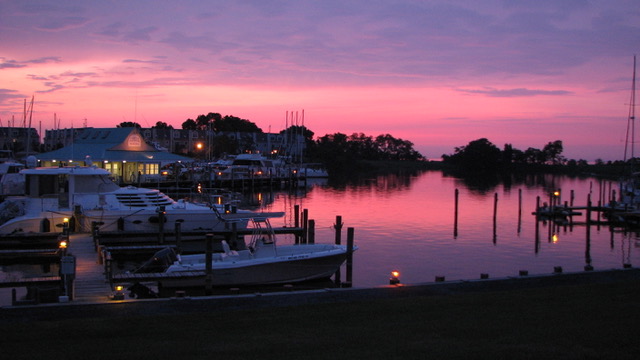 We're HOME!