Fishing Creek, Deltaville VA to Crisfield Municipal Marina MD
7/10/18
We threaded our way back out of Deltaville onto the Bay for a long, uneventful day.  It was a relatively nice day with average water waves, current and temperature, so we enjoyed the view and breeze from the fly bridge.  All day the water met the sky. A few boats were out there but seemed to pass in a dream.
I wanted to savor each minute out there on the fly bridge with the wind gently brushing against my face and hair, the unique moments to simply enjoy the wonderful time being outside, being there with Tom also enjoying the moments.  This is what we had spent over a year planning for: finding and buying the boat, getting it fixed up and provisioned, with Tom charting the best course.
And I did savor for awhile. I concentrated on the feeling of floating freely and the uniqueness of existence.  I had needed to spend time in my mind's "nothing box" to let in some peace and to regroup myself. Spaces in time always recharged creativity and helped me settle and consider what was next. It took time to settle into a "nothing space". Now I had that time. Tom is generally much happier in his "nothing box" and can drop into this state easily. I can tell when he is there by the vague affirmations to any conversational lapse probably needing a comment, and he'll have no recollection of any commitment afterward. The comment, "I'm busy." means he is either actually busy or that he doesn't want to come out of his personal space-box, either of which gets the result to be left alone. Yes, this was not just the good life. This was the best life.
Then I experienced the dichotomy: it was apparently impossible for me to sit and savor empty space for hours and watch a day go by. It worked for a time— only 5 more hours to go today, I calculated — before I decided to fix lunch. I wasn't bored, I just felt there were too many things to do and if I didn't do them, I would fall behind somewhere. I forced myself to go sit again and relax.  It's really such an alien concept for me.  I looked over at Tom enjoying his lunch, seemingly without a whiff of this dichotomy. Of course, he was also watching the course and planning ahead for other things. I wondered that he was able to do active things while in his "nothing box", a paradox, but he is talented.
When there was only water and sky, the variations of textures, hues, movement in the water and the clouds, and the depth of sky became new aspects to contemplate. Everything surrounding me was noticeably teeming with vitality, activity, and change as I sat within its quiet core.  I had taken many pictures of clouds on this trip.  To me they were classic in themselves, but I could imagine they might become a part of other pictures some day if I ever learned to use Photoshop. All the clouds and time were embedded within all the other days. I felt a closeness with the water and sky and realized I was becoming addicted to being out there. I noticed later that I hadn't taken any more pictures that day.
As we passed Tangier Island, I thought about the situation in this area where the water is rising and the land is eroding. What used to be a time-defined, albeit hard, life of watermen following generations of watermen was coming to an end.  The younger ones would have to move from the family home and town to find a new place, and also learn a new occupation and a new way of living. I didn't know much about Tangier Island and was surprised as we went by that it extended quite a distance around the first strip of land that I saw and had assumed to be the entire island.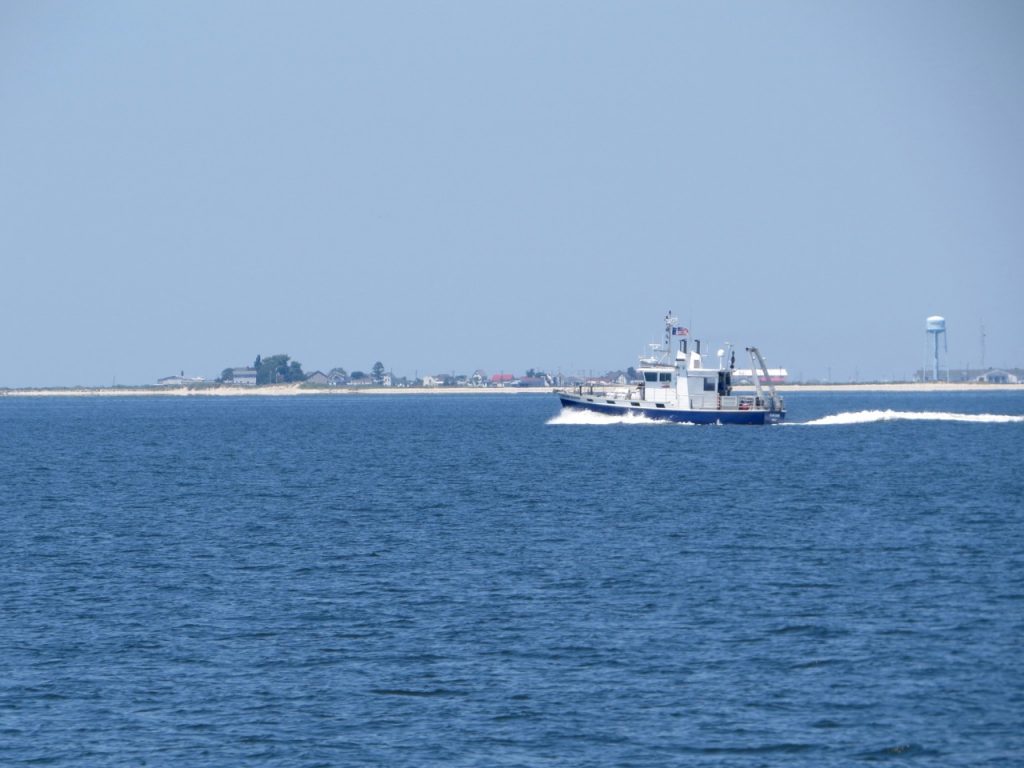 From the water, the houses appeared to have half-sunk, but I thought it more probable that a beach and berm had built up along the shore.  It was a small town with a church in the background. Tangier Island and Smith Island have been called the "Remote Islands of the Bay" because you must take a boat or plane to get there. Smith Island is known for its rich cake which has many thin layers of yellow pound cake with chocolate frosting between each layer and on top; a little goes a long way. Can soul-satisfying, intense sweetness really melt teeth?
This picture captured the charm, the old telephone poles trying to keep up with the modern world and communication (and failing), and the Tangier Island Cruise Sightseeing Boat, a major attraction there.
I had also imagined that there would be swarms of birds squawking and diving for fish, but I didn't see that. There were only some buoys where an assortment of birds rested, shaded themselves from the sun, and squawked about their buoy mates.
Who knows if there is any way to save these islands?
The thought led to the bigger issue that people everywhere are consuming our world too much. The land is disappearing. Concrete has been covering and suffocating more and more of the porous land, causing flooding. It was especially sad for me to know that our national lands, parks and monuments were being under-funded.  I had always felt a part of the vast public ownership of our lands and responsibility for it. Our government's job was to help protect the country for us, Americans, with America being our identity and land. Ironically, I felt it keenly even here with nothing but water and sky. The Chesapeake is my home surf and turf, and I care about the water quality and wildlife and its management. It is in a constant tug of war to stay viable with overwhelmingly aggressive polluters who are concerned only with scraping money from the area's land and water.
The first vision of Crisfield was as a white, modern town with a windmill as a central focus.  In 1900 Crisfield was the second largest city in Maryland, built on its seafood industry. The money to build an airfield and to update the city infrastructure with a marina was due to J. Millard Tawes, governor of Maryland from 1959-67, who grew up here. Governor Tawes was about 5 feet tall, a spherical "Santa" who directed big gifts of development money to Crisfield.
This gracefully designed boat is called a Deadrise, a notable, specific style of the Bay's Watermen. They do hard work for long hours as they crab in summer and dredge for oysters in winter.
Past the facade, the winding entrance into the port at Crisfield still reflected the days before the early 1980's, when Mrs. Paul's Fish Sticks and seafood were packed there. Very old, dilapidated buildings managed to stay intact, with doors that opened and closed, and with a few workmen moving through them doing traditional work. The late afternoon light was perfect on the old building and railings and it was as picturesque as anything I had ever seen, but my camera was elsewhere and I wasn't sure I could get it, take pictures, and be ready to dock.  It turned out I had had plenty of time, but the pictures will be only in my memory. Leaving the next day, the place lacked the charm and aged grace without the slanted shadows and gold aging.
As we came into the marina, a dockhand ran out along the dock and pointed with animation to the route to the slip. The water was so calm, this was the only time on the trip that I could have hopped off at my leisure and wrapped the line around a cleat.  Three dockhands were there and I easily handed them the lines as Tom slowly pulled in next to the dock. That was all. They set up our electrical cord and we were in — just like that. I loved the place automatically. They would be back when it came time to leave.  Whoever they were, I loved them too. Like the "A-team" from the old TV series, "I love it when a plan comes together." 
We went to explore the town a bit and to find dinner at the recommended spot.  Unfortunately the tiny museum was closed. We wandered about the town which was an empty shell, defunct, and looking a bit like a ghost town from out west. The yellow building with the faded red crab on the top oddly showed it all.  At one time this big advertisement was as trendy as those you can still see on bustling Ocean City Boardwalks. More thick telephone lines and poles told of obsolescence. We passed only a few people as we walked up and down the street. A restaurant at the end of the street, nearest the city pier, was empty, despite it being the height of the dinner hour. A couple of cars went by, turned around at the end of the street and came back. It was not a happening town. It used to be, but isn't now.  I saw cars but few people.
These were the other two tourists walking in town.
We got the feeling that the clean, organized marina was the main draw, and that vacationers who sought quiet came to stay in the nearby condos. The marina had clean baths, bicycles to use freely, and excellent, protected docks prepared for any emergency. Another Tangier Island Sightseeing boat was moored here. I hoped that it had many tourists ready to swamp the area with tourists and to fill the two or three restaurants still functioning and ready to serve their mediocre food. Unfortunately, we didn't see any invading hordes.
We went to dinner at Captain Tyler's Crab House. Eighty-year-old Captain Tyler, who still owns most of Smith Island and a big part of Crisfield, apparently enjoys running the restaurant himself. It's called a "restaurant and tiki bar", named because of a hula skirt around the top of the bar, but there was no "tiki" atmosphere of any other kind — nobody with a hibiscus flowered shirt to serve drinks, no little umbrellas in glasses on the bar, and no customers holding pink drinks with fruit to create a festive atmosphere.
Tom declared he had the best crab cake in the world, which I envied. To avoid Bay Seasoning which swells my mouth, I had a truly substandard prime rib that the waitress had extolled. Of course, she had never had prime rib elsewhere to know better. 
Maybe the waiter was a bit stir-crazy in this static environment without sufficiently stimulating conversation or many customers to break up the hours, but he was in a talk-deficit crisis, so he talked us through our dinner. A true 18 year old millennial, he was excited and could rapid-fire the word "like" 20 times per minute gusting to 30. A nice kid, he was lit up that we engaged in conversation. He wanted to hug his new friends as we left, but unfortunately, he awkwardly refrained. 
The other gal who had talked us through to the appearance of the waiter came to say goodbye and wished us to return soon. Her life story was relatable in a few sentences, and I hoped it would expand. She was thinking of having a dream for her life sometime soon. Unlike the waiter heading off to Towson State University, she would probably never get a momentum to leave. She was a nice person who wanted to please, but didn't have an angst to have "more".  Not everybody needs to be high-powered. I left feeling that I'd like to return to see them there, being intricately a part of this historic and laid-back place, and to hear of their life updates.
Back at the boat, we were unsurprised that the internet was again not strong enough to get or send anything. We were now a real part of the unconnected world, so close and so far.