Hampton VA to Deltaville VA
Hampton City Piers, Hampton VA to Fishing Creek, Deltaville VA
7/9/18
We got into Hampton in time for dinner and walked into a place that reminded me of Old Town Alexandria.  We went past the Marker 20 Restaurant with its outside patio busy with people eating and listening to a good jazz player. We vowed to return to listen after we got our delicious pizza at Venture, but didn't; we were tired from a long day.  I had been sitting out on the foredeck taking pictures in a high wind, and I felt sunbaked as well as windburned. Tom had been concentrating all day on a challenging course.  Back on the boat, we played a little music on our "alternative" instruments, a small classical guitar for Tom and a travel guitar strung like a Dobro for me, and read a bit.
Despite the placement along a city dock, it was very quiet and restful with a pleasant, casual atmosphere.  We liked the town. The marina was set up nicely and we could have gone swimming, adopted a free herb plant, and taken advantage of other amenities. But by then it was fairly late, so we went to bed instead.
Monday morning at Hampton was beautiful with a moderate temperature. I had wondered how we would get out of there to leave, and I was grateful the other boat, close on the port side to us, had left while I slept. We had moored on our starboard (right) side and we "kick to" (move to) starboard. A lovely cruiser was moored just to starboard. My job was to take off the bow line and push us out.  I worried that turning the bow out would move the stern into the lovely cruiser.  It was problematic for another reason; the anchor on the bow had somehow hooked onto the side of the piling and was stuck. Tom would have to release it before I could do anything. Then the stern also seemed to get stuck against the pier. Maybe Snowbird didn't want to leave. I pushed with everything I had with a pole against the bow piling, then walked it back while pushing it along and away from the dock, gondola style. Simultaneously, Tom released the stern line, hopped on, pushed off, got to the helm and started forward within a minute and magically pulled us straight out on our way. Yet another exit not to worry about...
We had not gone far, when I heard Tom shout: "WAKE!".  It was like saying, "Fore" when there's a baseball whizzing across the golf course. A small, 60-80 foot, gray warship had sped by. The galley bell clanged violently. The unlatched door banged like the major heavy thing that it is. Everything not securely tied fell off the counters. The closet bins bounced off the ledged shelves. Bathroom bottles and trays slipped and tumbled. Tom's navigational books and maps flew off. It was only the beginning of a long day.
The water settled for a brief time into a regular type of bumping wave. It was nice to have this opportunity for "horseback riding" again, but I wasn't sure whether to post or spur for the jumps.
Then, six foot swells that were close together, perhaps from the ocean at the mouth of the Bay, hit with a real turbulence. They combined the Samba Shimmy, a sideway rolling, and a separate, forward lurching. We were wind against current, and our galley bell was ringing again. DING, DING!
If I could get below, I'd say it was time for Motion-Eze. My breakfast was in a multi-angled Mixmaster.
The horse was now doing high jumps — ride 'em, cowboy; then it changed to Bull-riding on a very annoyed bull with a whiplash specialty move. We were diving headlong into troughs. The tabletop, my major grip, seemed to shift on its pole. This felt like an ocean storm and the weather still looked so sweet.
Were we really looking at seven hours with this motion and the current against us? With the thought, one of the aft wooden chairs collapsed and fell. My water bottle had tipped over and now leaked its contents on the seat and flowed onto my personal seat. The contents in the cabinets shifted. The back cornice didn't fall on my head again, but the big flag rolled on me and startled me. The teapot, for no reason we can think of, had water in it that spilled into the dish compartment, on the walls, steps and floor when it fell over. The TV was rocking on its stand, and it was bolted down.
The maps, chart and guide books, and Tom's navigation iPad continued to fall on the floor.  Tom considered turning back, but he didn't. He reasoned it would be worse for us going back through, so he committed to going forward.  We had not been gone an hour.
Snowbird is not really an ocean-going vessel, but she would be OK — if more Navy boats didn't go by. She was secretly enjoying the challenge. Her engine was purring and her structure held solid. Maybe the 800 pounds of fresh water we had taken on at Hampton was ballasting.
DING! The bell was raucous, with an edge like a poodle's bark.
To port (left) there was a line of houses along the sandy strand of Salt Ponds. It was a small edge of beach marking the edge of the Chesapeake Bay…my home, my refuge… We held hopes that it would be better on the other side of the peninsula.
The comfortable temperature in the cabin helped. If we had been going through this in the recent 97 degrees and 90 percent humidity, it could have been really miserable. Out on the Bay there wasn't even a pencil line of land, only water meeting sky for three-fourths of the circle around me.  Tom thought it beautiful with a Zen quality. It had never occurred to me that the idea of Zen would vary so much, but this definition grew on me.
After a distance, it did calm a bit. I made my way to the lower deck, mopped up the water, cleaned, and straightened up in general. I rose from the depths, triumphant. I had found the Motion-Eze! — though now it was irrelevant.
My little celebration was short-lived. I noticed there were a dozen large ships out on our starboard side, perhaps on a collision course heading to a spot off the bow. Tom told me they were going faster than we were and somewhat parallel, but to another destination. Disguised with the haze in the distance and our boat movement, I thought they were all Navy ships, which gave a strange impression. What news was I missing?
The camera zoom sees better than I do, and the computer sharpened the images to show that they were just freighters. Of course, I wouldn't have this information until evening.
More waves. DING.
Tom got tired of the bell's sharp claps and dismantled the bell from its place over the sink while I steered.  I thought it was just a decorative dinner bell, but apparently a bell is required on a boat. The other bell on the fly bridge was not very loud, but would serve the requirement.  When the galley bell was disconnected, Tom held it up like Perseus holding the head of Medusa aloft and proclaimed, "I got the no-bell prize!" It looked sheepishly neutered, and the bell with its engraved name, TITANIC, was put away. Quieter was nicer — until the blinds clattered off the window.
It was going to be more difficult to serve lunch. Hors d'oeuvres balancing on crackers? Chicken and apples sliced with a sharp knife? We decided to eat a protein bar for lunch. It was 12:14 and we had been out only two hours.
To humble me, a Navy warship that had separated from the line of ships looked like it was on a collision course, imminently. The fact that it was now speeding up and pulling ahead meant it would pass just in front of us, and we adjusted to the right, past its stern. On this huge expanse of water, they chose this course and came so close.  Amazingly, the wake wasn't too bad, something about the speed versus the length of the boat.
I wasn't going out on deck to get the picture, hopefully not of an impact.
Later, as they merged closer, the other eleven boats turned out to be commercial ships, which continued on a course to a more northern destination as Tom had predicted.
At 1:40, it was no longer rough, but the current was against us slowing us by a knot. We hoped to get in about 5 o'clock. It was nice to know so early in the day that I would sleep well that night.
The last challenge of the day was getting into Jackson Creek at Deltaville.  The entrance was a very, very narrow and winding channel between the shoals. Tom used his Navionics Sonar Charts on the iPad to pick our way through.
We anchored in a charming cove with the Fishing Bay Yacht Club docks in the distance, a resort on another side and nice houses along the slim sandy beach. The lingering sunset light caught the sailboats and masts and they shone with its golden color.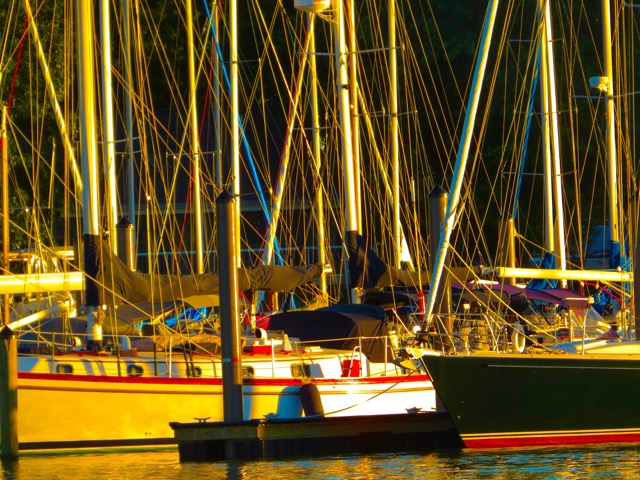 Bringing Paradise back to reality, one house had a ratta-tatta hammering on a new roof until sunset, resuming at 8:00 the next morning.
An Osprey was annoyed by this and voiced her opinion, especially because it seemed to wake the kid.
            "Darn, lost my contact."           "Again?"
Just the same, our evening in Deltaville was one of the most pleasant of the trip so far, probably because we like to anchor, and the stars were the brightest I've seen for a very long time. The boat rocked gently and the fish did their thing of plopping around. On to Crisfield tomorrow. All's well.