Campbell Creek NC to Belhaven NC
Tyler home, Campbell Creek NC to Dowry Creek Marina, Belhaven NC 
7/3/18
Now this was a hoot! — Pre-Fourth of July at Dowry Creek at the town of Belhaven. Tom guided us in perfectly, and Kathy perfectly handed the lines to three willing dock hands only two feet away (no throwing necessary). Later, the marina owners lent us their car to drive into town for dinner, music and dancing. We drove the six miles to the town following a map past a traffic circle that was built for some future traffic, a spell on Bible Shore Road, two left turns, and we were there. We didn't know how the car had managed to survive 229,000 miles and the paint looked like it had leprosy, but it ran fine and got us there and back.  The town included a lumber yard, marine store, auto parts store, Food Lion, drug store, Dollar General, and restaurants that opened on days other than July 3rd & 4th, so it was complete.
The line up of events on 7/3 was: Kiddie Parade (so sorry we missed that), Bouncy Houses, Pie Contest, BVFD Hot dog Eating Contest, BVFD Dunking Booth, and Street Dance — with "Disco D". A big committee had come up with this collection of originality from the last century.  Miss Independence (Tom had told me it was "Miss Firecracker") and Young Miss Independence were crowned. I think that either title was nicer than Queen of Groundhog Day from Punxsutawney, PA where I spent a year.
July 4th added Helicopter Rides, Dignitary Breakfast (like Mark Twain's prominent citizens from Hadleyburg?), Belhaven Parade, Dunking booth at $1 per throw, Lawn Mower Pull, Mud Run (fee) and then names of 4 people, each having an hour on stage — singing, not talking, I hope. Little Miss Independence was crowned. Then fireworks would be at the waterfront.
Tom got the description earlier of "wedding dancing" at the street dance.  He thought, "Oh good, ballroom, Waltz and Rumba." I guessed Conga and Electric Slide. The music turned out to be a Rapper with an electronic beat machine and a very big amplifier. People had no problem dancing to this, I guess, since it was whatever they wished it to be.  I couldn't get close enough to see since I valued my hearing.
The food concessions were interesting. We first ordered a shrimp burger, which showed up as six delicious deep fried shrimp on a bun. I went back to get the perch, also on a bun, and then sat to eat.  I needed both hands to detach the head, fins and tail, and to sort out the mini-sword bones of the spine. Glad I didn't take the idea of a sandwich on "faith" from the evangelical group that served it.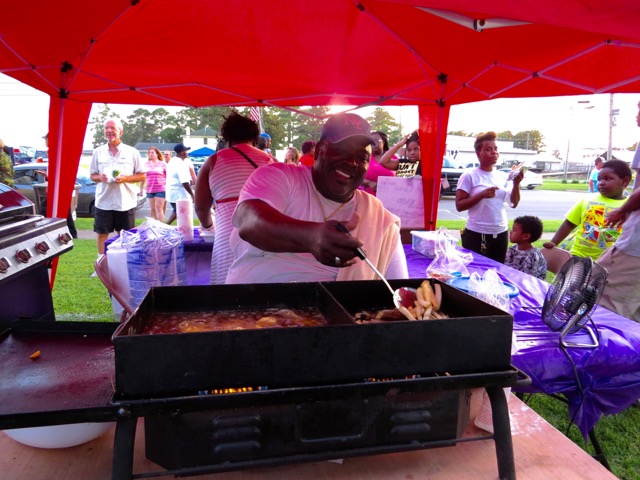 You knew your food was freshly cooked.
Three others sat and talked with the three working and then three more sat with them for awhile. I guessed the whole congregation showed up at some time. They were a fun group, I thought.
Next tent was the kettle popcorn:
These three gals really worked at mixing in the ingredients, and it was good.
And yes, they all wanted their pictures too. By the time you ate the free sample, you didn't need to buy the $9 bag.
Tom wanted to survey what else was there to eat.  We didn't get the Chilly Cheese Fries, preferring to have them hot. The SAUAGE DOG might have left out something important, same as the Pineapple SMOOIE, or even just a cup of Smooie.
I think this venue should get the prize for the biggest variety of fried pork rinds. They also sold dresses, hats, lemonade and orangeade at the same booth.  The logic for this combination was obscure, but could be fascinating.
Tom bought a chicken kabob which had hidden peppers, so he didn't have to share it with me. The guy there said he remembered Tom from the event last year, which was a surprise.  I mean, who remembers someone from last year who wasn't there? That's a great memory.
The real action seemed to be with desserts:
There were at least five Funnel Cake places, and these had topping choices to be piled on top of the powered sugar: chocolate, strawberry, fried apples, and any combo of them.  There were three or more candy apple places in the two blocks.
We went around back to the carnival rides, which all fit into three pictures. The picture of the little train that could circle the amusement area in four minutes was blurred.
I think the blow-ups came from the same cone-turret company. They didn't have to dismantle these "fun actions", as they were named, just deflate them.  The two rides actually moved — in a circle— and were even tamer than the classic "Teacups" ride, but Tom was getting tired, so I didn't persist.
The green ball in mid-air was a water balloon.  A mother paid for her two boys to throw water balloons at each other. My mother let us do that for free — along with other things that probably shouldn't be thrown.
This was a complete carnival to kids who hadn't experienced larger ones and it was quite sufficient really —  doable and not overwhelming. I hope it is different next year for the kids, but that wouldn't establish a "tradition" for them to pass on.
We felt we had done the circuit of this part of the celebration and were real sorry we were leaving before the fireworks on the 4th.  This town has a lot of spirit. We subitized about 500-600 people showed for their biggest annual event, strewn along two short city blocks.
Tom observed that the different atmosphere of the town might have been due to the lack of cell phone coverage.  I saw a couple of phones, but other than that, people talked with each other and interacted instead of standing in a group looking at their phones. The Blacks, Whites, and Latinos  gathered and dated here in North Carolina with no problem. Someday it might even expand to other ethnic groups who move in. They're good people.
We came back to the boat under the starry sky that is visible above a town that's not all lit up. And I remembered that my students in Philadelphia had never seen a starry sky or a rainbow. Who is underprivileged?
Looking out the back of the boat before I turned in for the night, I saw a flag of lights at the office.
Patriotism. Small town America is doing its best.