Southport NC to Adams Creek NC
Casper's Marina, Swansboro NC to Sea Gate Marina, Adams Creek NC 
7/1/18
Morning came early for me, so I took a sunrise picture at Casper's Marina at Swansboro, N.C.  My picture is amped with color but the actual scene was as lovely, emanating quiet, subtle calm.  We were docked on the outside of the pier near the channel so we rocked and rolled sporadically during the night as each boat went roaring by. The pier was high and rough hewn, so any knocking or rubbing sound woke the protective part of my mind. By morning the ball fender we hang for extra protection had rolled around and under the pier, neglecting to do its job of cushioning the side.  The hard topknot of the fender knocked for effect. 
I can't complain that I got this picture while I was up.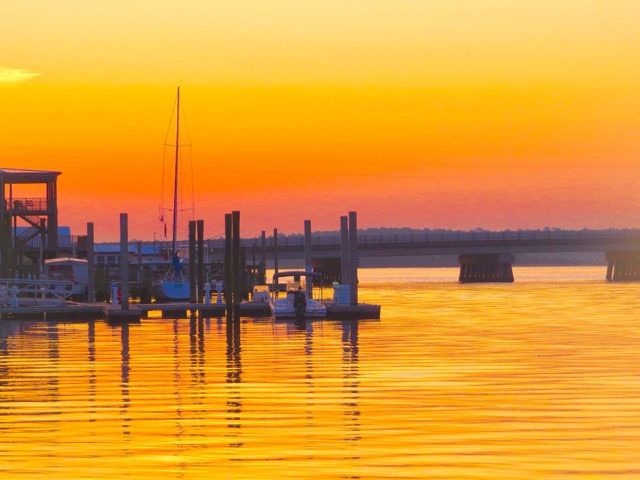 Underway, we saw several shrimp boats, which looked like grasshoppers with high angled legs, colorful green net wings, and ball fender red eyes.
This dog "running on water", cavorting, leaping-jumping and frolicking high out of the water was a delight. It was able to run and leap springing from the unseen firm surface just under the water.  It would go running — ejecting itself up, bounding like a deer or rabbit, and go a long way away from its owner's boat. Then it would turn back toward the boat, run past and turn again, and on and on it went, in this spirited splashing, soaring sport of its own. Its ears were flying in the wind it created. We had never seen anything like it.  It was pure existential joy. I hope they video it and put it on You Tube or America's Funniest.  We loved it.
"Joyous Existence"
"Water Spot"
This state is very patriotic.  Someone even put flags on a bush on a sand bar for the July 4th celebration. The birds didn't seem to mind other visitors to the branches, and the bushes seemed to bloom again — in red, white, and blue.
Bleached dead trees and bushes, like fantastic, soaring and dramatic sculptures, lined the shores intermittently along the ICW, but they seemed particularly abundant in this section of N. Carolina.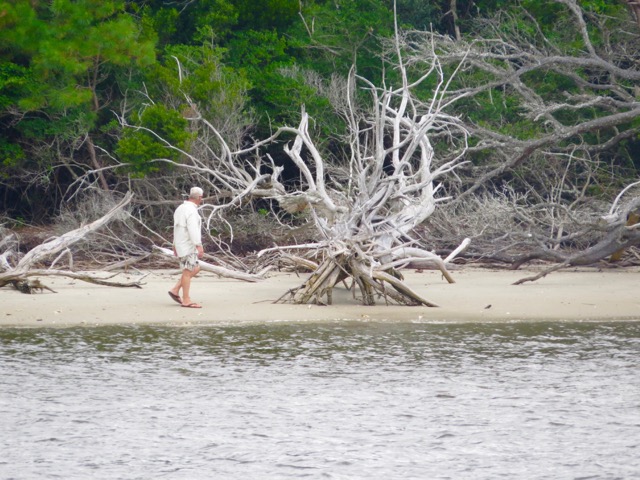 After docking, we took a walk around the neighborhood.  Passing a house we saw these tall flamingo lawn ornaments.  Eat your heart out, Florida.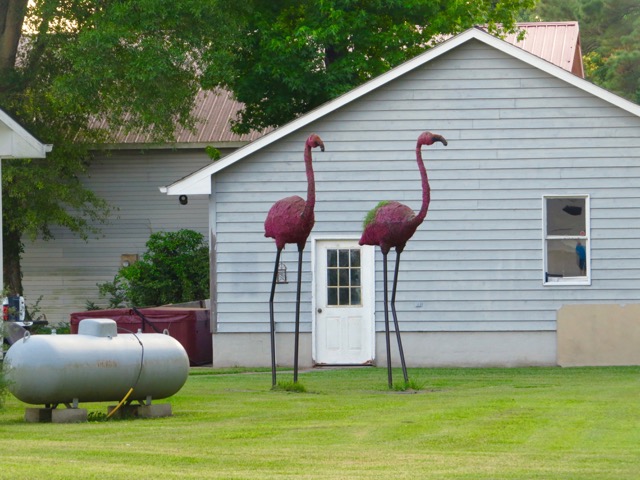 "Have You Seen our Giant Lawn Reflecting Ball?"
Saturday and Sunday July 4th holiday boat traffic was dense in some areas and it was good to know that the waterways were well-used for recreation in various ways. Lots of jet skis and motor boats were zooming for fun; people were fishing, picnicking and tenting; and cruisers were motoring sedately.  Only the sailboats were not out in full force in the light wind and high heat. 
We wondered what percentage of boaters knew what they were doing or knew the rules of the road. However, almost everyone raised a friendly wave as they sped by — creating unsteadying waves — like a multitude of nearsighted Mr. Magoo clones, happily and obliviously swamping others as they proudly maneuvered S-curves in front of those they passed.
"Recreational Assault Team"
Tonight we're in a quieter, secluded spot and nothing is rocking our boat, literally or figuratively… so far.