Myrtle Beach Yacht Club, SC to Southport Marina, Southport NC
7/28/18
Derelict boats had been abandoned along the way since Delray Beach, FL and they littered the St John's River last February. Along here, I was impressed that so many have been cleared away. Somebody, probably a kid, dubbed this one the "Love boat".
"Un-Wreck-quited Love"
coupled with the real name, SUMDAY, it was all too ironic
Little beaches dotted the waterway in North Carolina. This man had the same sun block as the girl yesterday (small inflated pool over the face). I didn't know it was that popular.
We stopped at Southport for the night. The area near the port had many restored homes, some kept in beautiful condition, some in disrepair or quirky.
This was complete with turrets. I wondered if this pristine "dollhouse" were faithfully restored to paint choices in the 1880's.
Interesting juxtaposition — gods on a first date?
Many were getting ready for the 4th of July.
1895 feels right at home today
We ate at a busy, popular place that had hubbub for atmosphere, but the food was good and reasonable. A man gave directions for eating there: give him something personal, such as sunglasses, wait in line at the open door (which is not the women's room next to it), stay on the left, menu is on the right, order on the left, give your name, get a drink in the room on the right — honor system for drinks— go out the screen door to the back on the right, find your item on a table and sit, wait to hear your name called by someone holding your food and flag down the server.
"After you eat, go back through the ordering door — now on the right — to the register, give your name, say your drinks, and pay," he continued. Tom and I looked at each other wondering if we were smart enough to eat there. Tom said he felt like a chicken in a factory. And it was loud with talking/clucking "pick a little, talk a little,… pick, pick, pick, pick a little, talk a little" sounds. It was fun, or at least unique. The sun set quietly in the distance.
Before we got in, there was a 40 minute wait, so we went and had "Death by Chocolate" ice cream. I found it better than Tom's plan for death by starving. Also, I like chocolate.
Back at the restaurant and still waiting, I took these of a little girl named Savannah: The bow on the top was "over the top" cute. With her expressions, she communicated without speech.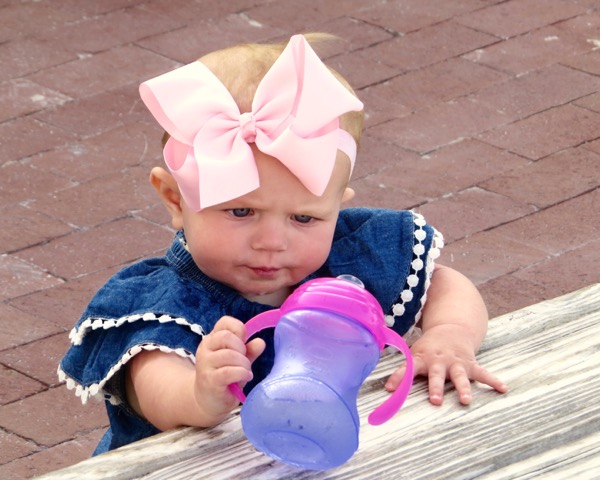 "Hmmm! Perplexed Concentration."
"Are there some empathetic dancers out there?"
Since I usually have dessert after dinner, I suggested we have another ice cream at that time, but Tom said "No." We thought it better to walk off the first ice cream, and it was a nice evening for walking and regaining peaceful quiet on our way back to the boat.